MyCare
:

a product-service ecology designed for
Type 2 Diabetic patients
Discovery
User Research
UX & UI
Systemic Thinking
Partial Development
How might we leverage the close connections i.e. friends and family to keep up the motivation of working on personal health?
MyCare helps a patient suffering from diabetes (Type 2) record their daily activities, which can then be shared with their personal network and medical provider. It helps build a support system that is a click away, without overcomplicating information from a patient's daily life.
My father, Mr. Sharma was diagnosed with diabetes at the age of 40. Today, at 54, he relies on his caregiving network (family doctors, immediate family, and friends) to help him with his medication, healthy diet, and physical activity. He also suffers from high blood pressure, high cholesterol, and thyroid (in short, comorbidity). With checkups every 3 months, carrying glucometer everywhere he goes, organizing a medicine box containing daily doses, watching what he eats, there is a lot he manages every single day. So I tried to design a system that helps him with this management.
"My illness is a part of my life now. It is something that I have been living with for a long period of time."
My father still uses paper and pen to record his glucose readings. He often carries it to his doctor whenever he has the next appointment (mostly once in 3 months). My mother tries her best to help him with his nutrition but she is often unaware of his condition because she doesn't understand the medical jargon. He also has a group of friends whom he often exercises with but they would be unhelpful in case of an emergency.
34.2 million people in America have diabetes (10.5% of the US population) of which only 26.9 million people have been diagnosed ( including 26.8 million adults). - National Diabetes Statistics Report, 2020

Diabetes doubles the risk of heart disease and stroke. It is the leading cause of kidney failure, lower-limb amputations, and adult-onset blindness. - Source
A unified system to manage the illness is needed for a disease as complex as this.
CHRONIC ILLNESS: DIABETES (TYPE 2)
A gist of what causes diabetes, its symptoms, consequences, and the feedback loop
(music courtesy of Adobe Stock, The Last Tears)
An all-in-one system for a diabetic patient's wellbeing
Sync glucometer to track your everyday sugar levels
Record your daily tasks and see how it influences health
Share health reports with your caregiving network
Leverage the power of community and connections
A quick click lets you add medical information
An animated storyboard explaining the working of MyCare
(music courtesy of Adobe Stock, Atpharma)
TEAM BASED CARE
​
Involve friends and family to build accountability
​
MEDICAL HISTORY
​
Storing patient's history from time to time
​
INFORMATION SHARING
​
An easy way of sharing medical reports and updates
CLOSED-LOOP
​
A holistic system to provide care and support to the patient
"Let's face it, the universe is messy.
It is nonlinear, turbulent, and chaotic.
It is dynamic. It self-organizes and evolves. It creates diversity, not uniformity.
​
So what is a system? A system is a set of things—people, cells, molecules, or whatever—interconnected in such a way that they produce their own pattern of behavior over time."
- Donella Meadows
(American environmental scientist)
There are so many examples of systems in nature. So I used an analogy of the solar system to imagine my research process; with the user at the center and the planetary rings around being different steps (in a hierarchy)
INTERVIEWS:
Primary User Interviews
Expert Interviews
​
ACTIVITIES:
Observation
Photo Journaling
Journey Map
Secondary Research
Analogous Research
​
OTHER METHODS:
Secondary Research
Analogous Research
​
TOOLS:
Adobe XD
Keynote
Miro
Pen and paper
​
Shown alongside is my father's caregiving network. As a part of my research process, I dug deeper into his lifestyle, daily routine and habits, his immediate dependents, and his medical history.
The kit used by Mr.Sharma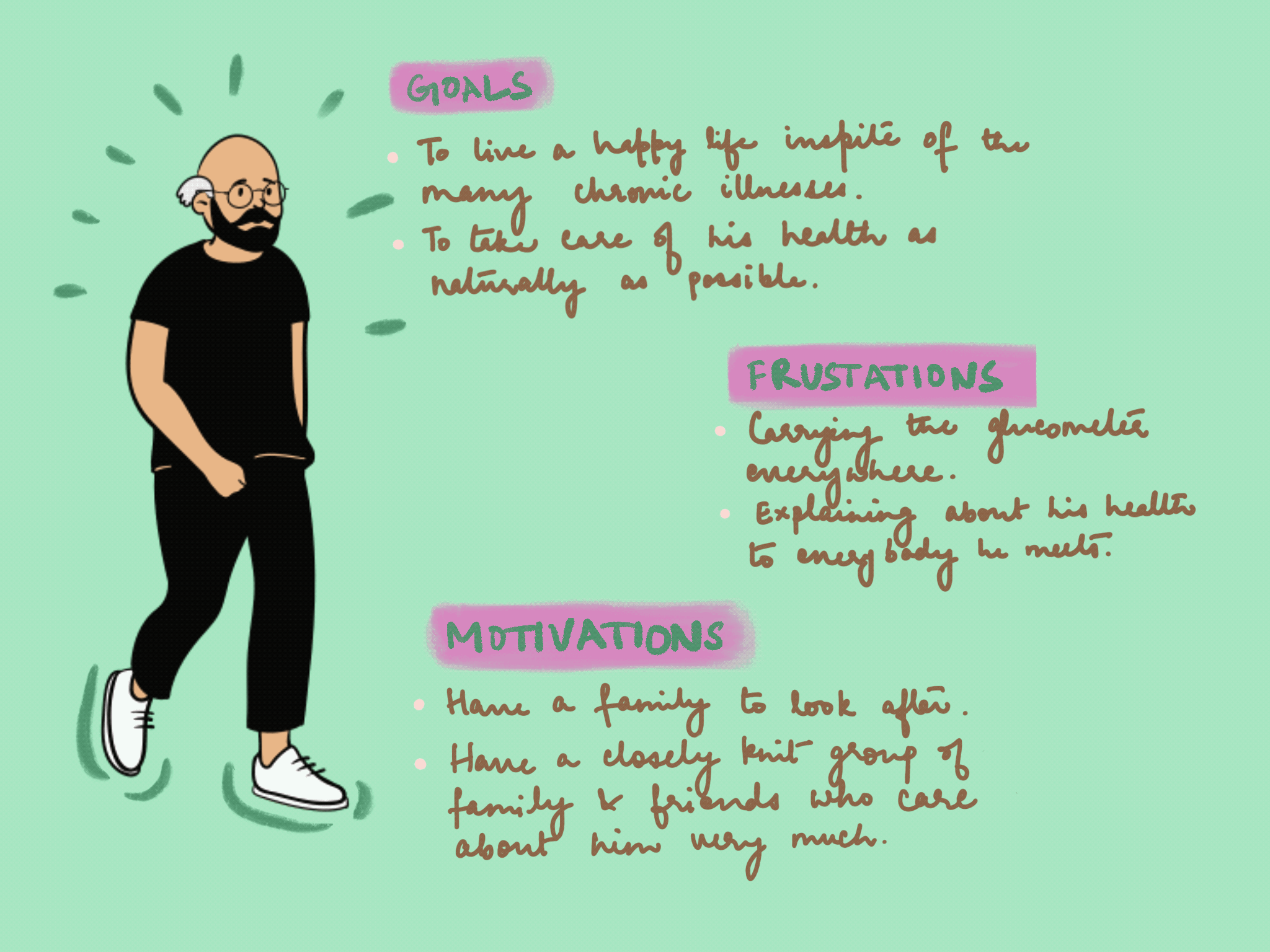 Mr. Sharma's thoughts and feelings on his sickness and the life he lives
"These are the things I want help with. It is all too much to remember."
- Mr.Sharma on being asked, "what are your health needs?"
A web showing the connections and relationships amongst different points in his caregiving network
How might we regularly record and track the health condition of my patient?
How might we leverage the close connections i.e. friends and family to keep up the motivation of working on personal health?
A conceptual model of the system (including everything that my patient wants help with) indicating Objects, Attributes, and Actions for each feature
The next steps would be more work on the UI and repeated testing following that. The screens will be developed further to build a complete IoT system.
Since this project was designed keeping in mind only one user, I would like to collect more data points and change a few features hence, catering to a larger audience.
What worked?
​
I enjoyed designing something for the dearest person in my life. I knew all along that my father suffers from multiple illnesses but he has always made it look so unobtrusive. This was the first project that let me understand a chronic illness and the system surrounding it with such depth. This has sparked my interest in healthcare projects.
What could change?
​
I would try and expand the system boundaries so as to include more details on the other simultaneously occurring illnesses in the patient. It would help to include details of other body parts that the doctor can then refer to later for guidance. I would also want to interview more diabetic patients so that a larger subset can give better results.